FIRST TIME PICK-UP QUESTIONS
How many is 8kg per bag?
 8kg may include 40 – 60pcs of regular everyday clothes, including towels and sheets
30-40 pcs: Mixed Adult Tops, Adult Bottoms, Undergarments, Linen, Kids items
40-50 pcs: Mixed Adult Tops, Undergarments, Linens, Kids Items
50-60 pcs: Kids Items, Baby Clothing, Undergarments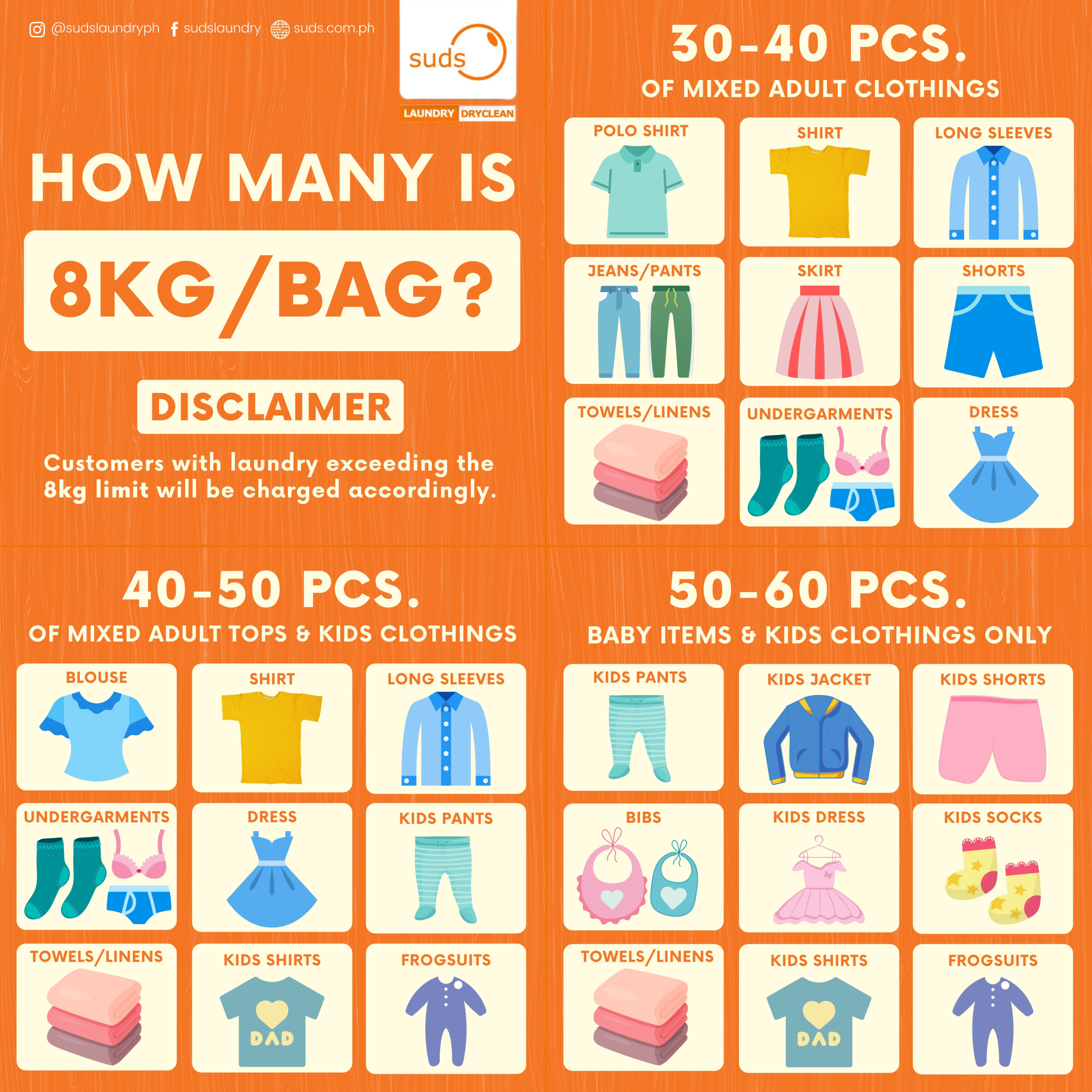 Where should I put my laundry?
You may put your laundry in a plastic/LaundryNow bag:
Bag Option 1: The client will use a plastic bag approx 20 by 30 in size or a Large Trashbag;
Bag Option 2: Suds Driver will bring a contactless bag (customer-purchase) or 20 by 30 plastic
Bag Option 3: The client will order Suds Contactless bag in Shopee (if a courier will pick-up the clothes instead of Suds Driver) or order in advance with the store.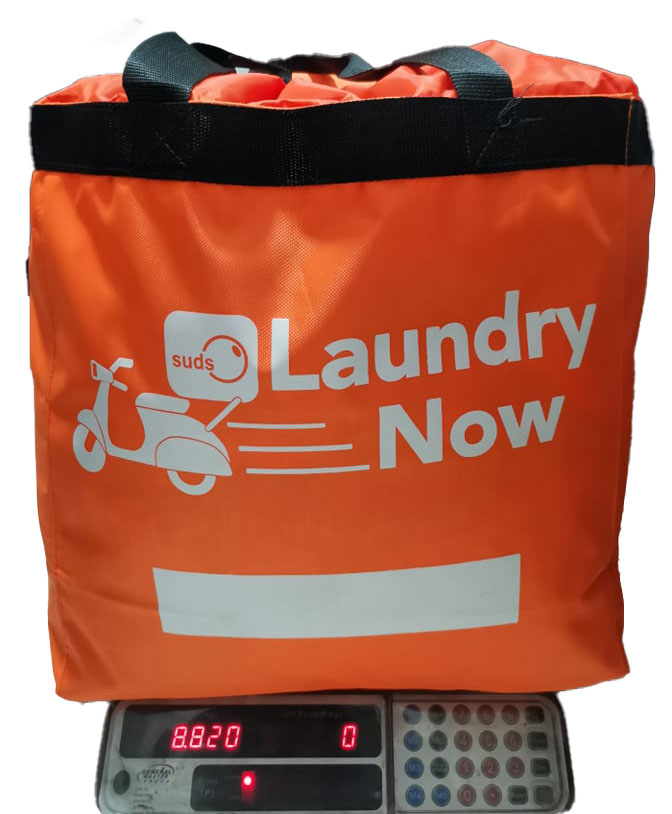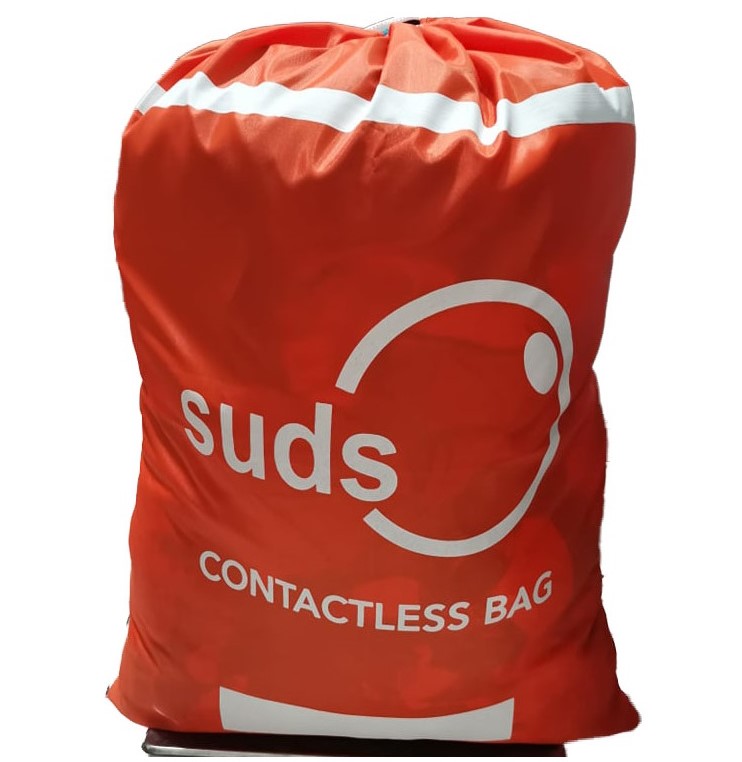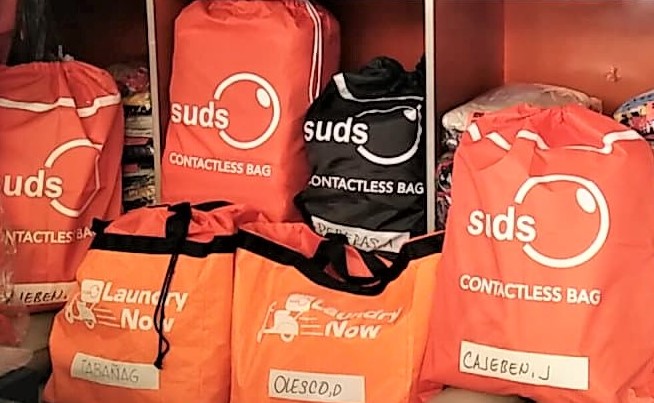 What if I got excess clothes or my clothes weighed more than 8kg?
Items exceeding the maximum 8kg per bag will be charged accordingly.
How long would it take to return my laundry?
Our processing is between 3-10 days depending on the service that you availed. Suds observes a 2-day Virus Inactivation period to assure the safety of our clients and staff.
See the research here supporting this study. Also, in our FB post.
What's the process if I book my own courier?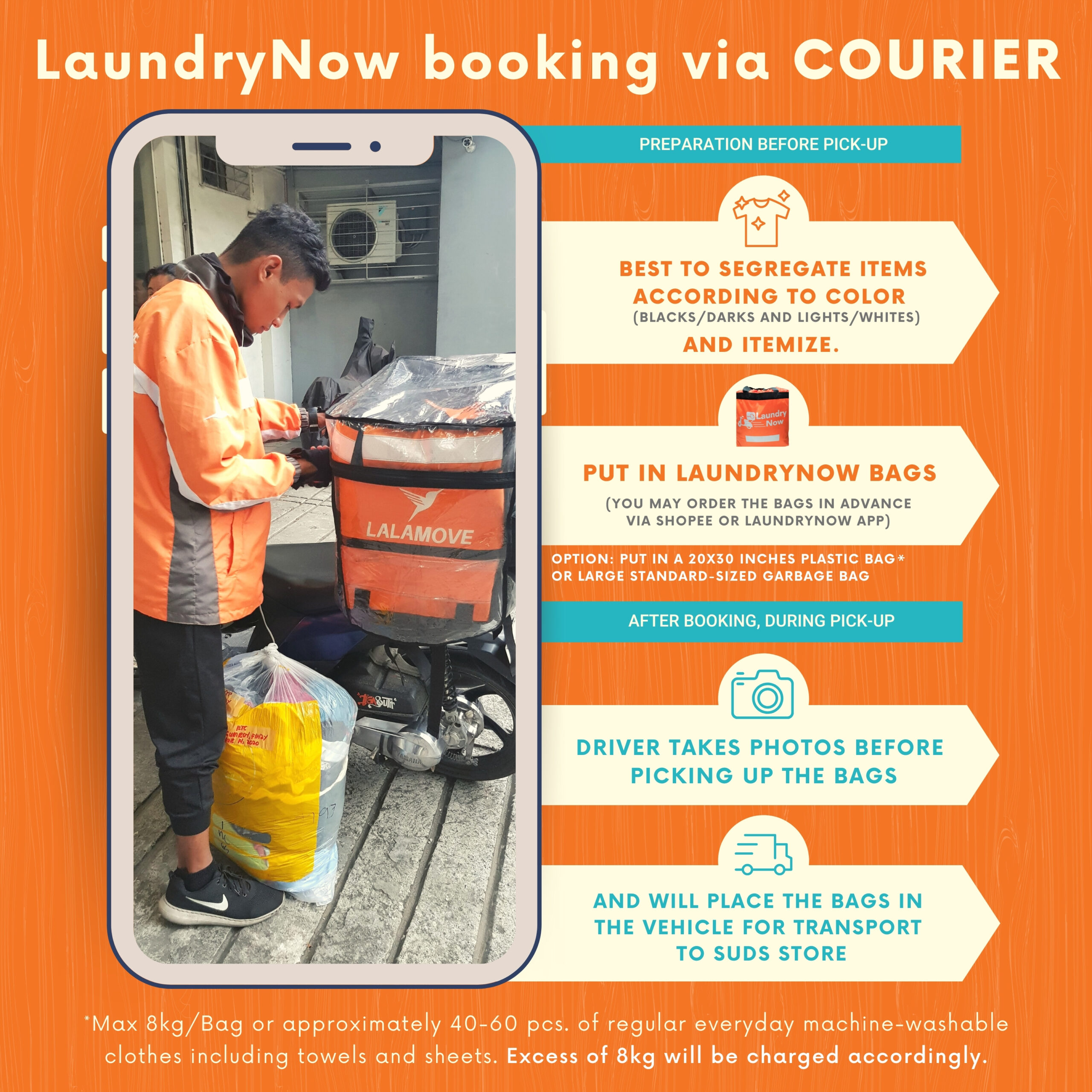 What's the process if I book using your in-house driver?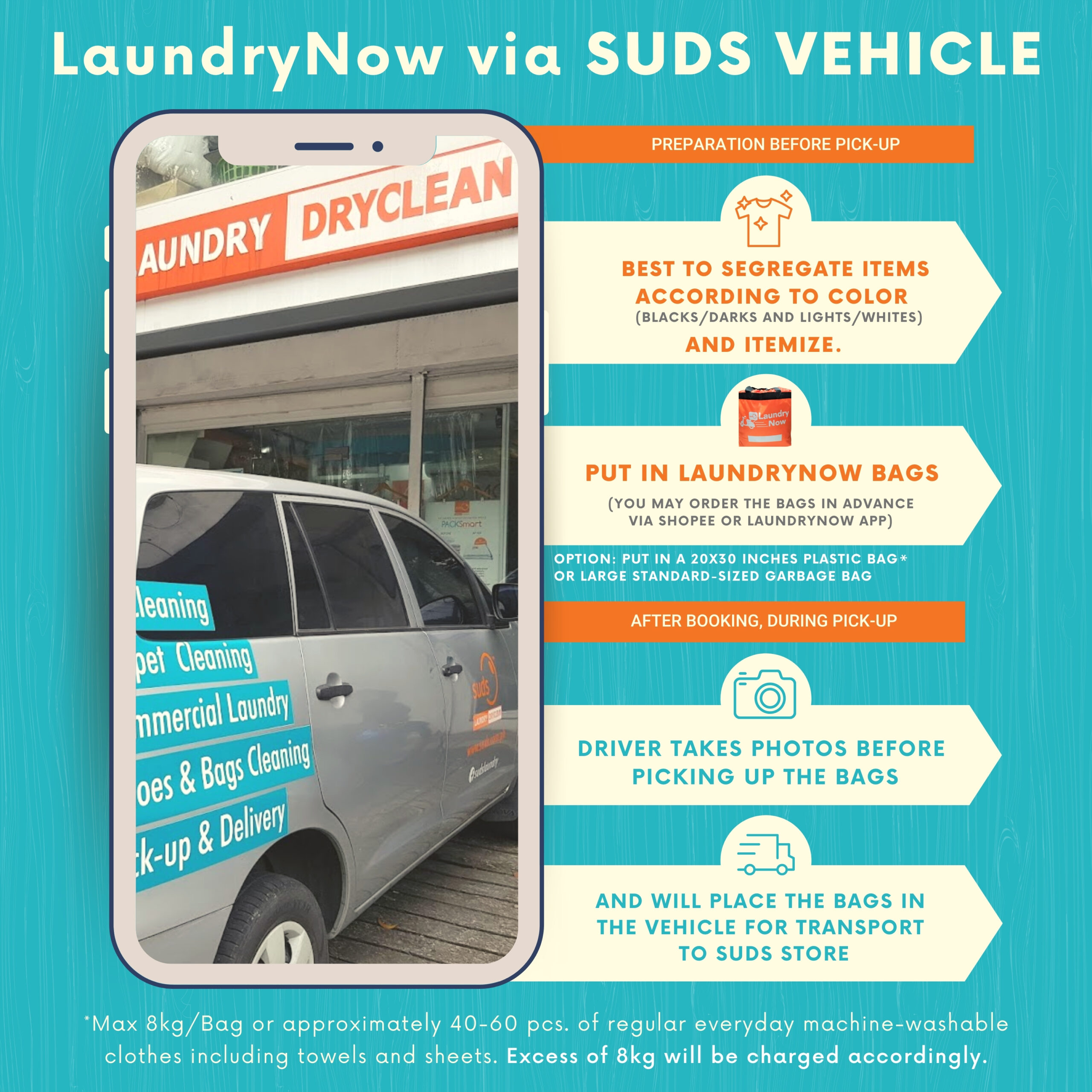 When will I know my pick-up or delivery schedule?
After you book, our staff will get in touch with you to verify your details and advise your schedule. You will also receive an automated text message for your pick-up or delivery schedule.
What if I need more than 1 bag?
You may order more LaundryNow Bags or we'll bring extra plastic bags to cater all your laundry items. Kindly inform the staff that you have more than 4 bags of laundry for them to be prepared during the pick-up.
Is there a pick-up and delivery fee?
Pick-up and delivery fee is FREE on your first booking with LaundryNow. You can also choose a free Suds Bag instead of waiving the pick-up and delivery fee. The next transactions may have charges.
LAUNDRY SERVICE QUESTIONS
What laundry services do you offer?
Can you handle clothes from sick patients? (Ex. PUI, PUM, Confirmed with COVID)
Yes. We can still accept laundry from a sick patient. Our new normal protocols will be strictly implemented.
What type of detergent do you use? Is it hypoallergenic?
We are using Trebon Plus. Yes, this detergent is hypo allergenic and certified by Germany's Robert Koch Institut.
Does the service come with a fabric conditioner?
Yes. Our services come with Suds fabric conditioner.
Do I need to sort my laundry?
We highly encourage you to sort and provide the list of items that you will send for laundry.
What can I include in the bag?
In one bag, it can be one (1) of the following:
–Regular everyday clothes that can be machine-washed and machine-dried.
–Machine washable garments mixed with a few towels and sheet
–Just towels and sheets
–1 set of comforter, fitted sheet, and pillowcases
–1 king or queen size comforter
I don't have the Suds Bag yet, what should I do?
If you are to drop off at our store, we can provide you with our 20x30in plastic bags temporarily to put in all your laundry.
At home, you can prepare in advance by using any plastic bag or Large Trash Bag separating the Light and Dark colored items of around 40pcs each bag of adult regular everyday clothes. That's the best estimate for the fixed-price laundry bag.
You can inform our CRO/Receptionist if you want to avail our LaundryNow or Contactless Bag or order it thru Shopee.
Can I combine Whites/Lights into Blacks/Darks in one bag?
Yes, you may but make sure no item will bleed during the wash process. For the best result, we highly recommend that you sort your clothes according to color hues to avoid color bleeding. White and light-colored items can be together in one bag and have another bag for your blacks and darks.
Why do you suggest segregating clothes according to colors?
To avoid color bleeding or color transfer, we recommend segregating your clothes this way. For now, this is one of the safest methods we can implement to minimize our staff's contact with your clothes. We are implementing this protocol assuming all items to be processed are contaminated so that our staff and every customer will be protected. We are erring to the safe side of caution.
Can I mix towels/bedsheets (linen items) to my clothes in one bag?
Yes, you may as long as no color bleeding will occur.
What if I have a few clothes for pressing, can I mix them with my wash-dry-fold bag?
Yes, you can mix it as long as it is within the bag limit (max of 8kg). Your few items with pressing will be charged per piece then (hangers not included).
Can all stains be removed in the Php 350/bag pricing?
Items will be cleaned, however; we cannot guarantee the removal of stains during the machine wash process. We may specifically treat stains in our Special Wash services. 
Can I cancel my order?
Inform the store in less than 12 hrs of any cancellation.
Will you still weigh my clothes?
Yes. Your clothes will be weighed upon arrival at our store. This is to verify that the bag does not exceed 8kg. Price adjustments may occur.
Can I send "wet" clothes?
Yes. Just take note the risk of color bleeding may occur and may affect other items.
Can I get my laundry right away?
Rush service depends on each shop's load for the day.
Who handles my clothes?
Your clothes will pass through from our Drivers – Receptionist – Operations staff. Some of them are fully vaccinated and their health is monitored every day.
PAYMENT- RELATED QUESTIONS
How can I pay for the laundry service?
You can pay via Bank Transfer, GCash, ShopeePay, PayPal, or Cash on Delivery. During this time, we highly encourage you to pay online to minimize direct contact.
When can I pay for the laundry service?
After your laundry is picked up, we will send you an email with payment details. Online payments should be made before delivery.
Can I pay cash to your driver?
Yes, our delivery crew can receive cash payments although we prefer online payment to minimize direct contact.
Where do I get your payment details?
Payment details will be sent by email (like the GCash QR code) or you can send a message to our FB page/ Store Viber (if applicable) to get these details.
PICK-UP, DROP-OFF, AND DELIVERY QUESTIONS
How quickly can you pick-up my laundry?
The pick-up of your laundry will be scheduled 1-2 days after your booking. For on-demand pick-up, we can book a logistic courier such as Lalamove, Grab, etc. to get your clothes beyond our schedule.
Can I drop-off laundry at your store?
Yes. You can drop it off at the nearest Suds Store to you. The store schedule/operating hours are different per branch. Plan your visit ahead of time.
If I drop-off my clothes by myself and decided to have them delivered, is that possible?
Yes. You can call, text, or send a message to our respective FB page to inform us. Delivery charge may apply.
Can I book myself a courier?
Yes. Just give us the rider details together with the pick up and delivery schedule that you set.